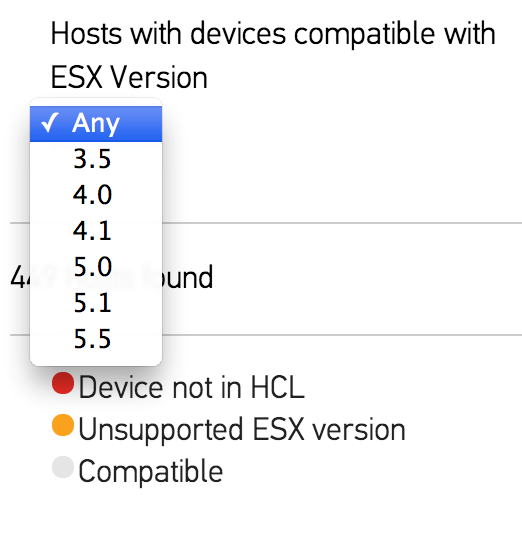 VMware recently released a new version of its flagship product – VMware vSphere 5.5 – with loads of new features. You may be planning to upgrade your servers to this release in the near future. But as we all know, software upgrades are prone to risks and careful planing is necessary especially when dealing with core infrastructure software. VMware has published a very nice Knowledge Base (KB) article outlining the best practices for vSphere 5.5 upgrade. At CloudPhysics we have built some cool things to help you with this process. You can learn about them in this blog and they are completely free to try.
The most important piece of the upgrade process is the hardware compatibility check. VMware maintains a strict hardware compatibility list (HCL) to ensure all the included systems and devices are fully stress tested. The upside is that you can run your mission-critical applications with peace of mind. The downside is that you must check to ensure your server system and all associated I/O devices are compatible with the new software release. This is usually a painful process – and when you have 100s of hosts, it's almost impossible. Overlooking server or I/O device incompatibility can put your system at severe risk of disruption.
CloudPhysics can take some of the pain out of the process. CloudPhysics' SaaS offering helps administrators make data-driven operational decisions, quickly and easily, by understanding and correlating the interrelated systems in your datacenter. CloudPhysics uses a Card paradigm, where each Card is a mini "app" that provides insight into a specific operational issue.
In the case of upgrading to vSphere 5.5, CloudPhysics has several Cards to take you through critical upgrade tasks with greater certainty and ease.
Host-inventory-filter.png
Choosing a Host for Upgrade
You may wish to upgrade a particular host or a cluster first before rolling out the upgrade more broadly. How do you select the hosts for upgrade? You may have a number of criteria to narrow down the hosts, like the current ESX version, the number of CPU cores, the processor type, server vendor and model, server form factor etc. To help you do this, click into CloudPhysics' Host Inventory Card and use the filters to identify every server in your datacenter that matches your criteria.
System Compatibility Check
Next you'll probably want to verify that your selected hosts are compatible with the ESX 5.5. The Host Inventory Card makes it easy to check system compatibility of your hosts all the way back to ESX 3.5. CloudPhysics does this by mashing up your inventory meta-data such as the ESX version, server model name, processor type etc with the VMware Hardware Compatibility List. So to check which of your existing hosts are compatible with ESX 5.5. all you have you to do select ESX 5.5 from the drop-down list, and it will return a detailed list of all the hosts in your datacenter that are valid upgrade targets.
System Release Notes
Server vendors often include important information in the release notes for each server model. To access these, simply click into the host details on the Host Inventory Card.
Screen Shot 2013-10-03 at 11.35.42 AM.png
Hardware Upgradability
With every new vSphere release, VMware raised single-host CPU, memory and VM limits. To take advantage of these new limits, you'll eventually need to upgrade the CPU and memory configuration of your host. So how do you know which server hardware can be upgraded? For instance, some of your servers may have unpopulated CPU sockets or system memory may not be utilized to its maximum supported capacity. With the Host Inventory Card, you can quickly determine which server machines have free CPU sockets and which are approaching the physical memory limits set by the vendor.
Screen Shot 2013-10-01 at 9.31.02 PM.png
I/O device Compatibility Check
Screen Shot 2013-10-01 at 9.51.28 PM.png
System compatibility alone is just one part of the upgrade puzzle. All the I/O devices on the system must be compatible as well. CloudPhysics' PCI I/O Devices Card gives you a list of all the hosts that have devices compatible to a specific version of ESX.
In addition to the compatibility status, you can also see the minimum firmware requirements for the I/O devices.
Screen Shot 2013-10-06 at 7.57.54 PM.png
KB Articles That Matter
Screen Shot 2013-10-01 at 10.15.01 PM.png
Another helpful card for upgrade is CloudPhysics Knowledge Base Advisor Card. This Card matches over 1500 KB articles from vendors that are specifically relevant to your datacenter, including more than 105 new KB articles that are specific to VMware ESX 5.5. Simply filter for ESX 5.5., and you'll see the advisories as well as the specific systems in your datacenter where each advisory applies. Running the KB Advisor Card before you upgrade may help you spot issues and preempt disruptions. How cool is that?
We're pretty excited about the vSphere 5.5 release and even more excited about how CloudPhysics can help make your upgrade a success. I hope you try it out – and keep in mind, this is just one scenario where CloudPhysics can help you. There are numerous Cards that can help you make informed operational decisions that reduce risk, eliminate waste and save money across your virtualized datacenter. Take some time to explore them all and tell us what you think.
-Krishna Raj Raja (@esxtopGuru)