In today's IT Department, Yoda's teaching still holds true.  By viewing a strategic partner as our own personal Yoda, we can attest that the partner is critical to the success of a new IT strategy.  This week, in a complete tongue-in-cheek blog, we have much to learn from a toy Yoda in a terrarium.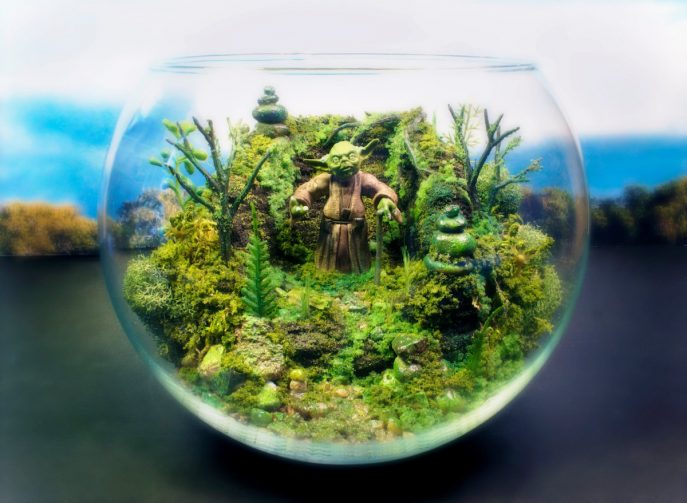 "Many of the truths that we cling to depend on our point of view." – Master Yoda
When you work in IT within a corporate setting, you see the world in a different light.  You know where every server is placed, you know the troublesome applications, and you know what resources are most likely to be burdensome in your future.  For the most part, your ecosystem is self-contained and very much like a terrarium.  You control the placement of the resources, you have set boundaries, and you are usually wholly responsible for the success of your IT business decisions.
"If no mistake have you made, yet losing you are… a different game you should play." – Master Yoda
But, like being in a terrarium, your view is also limited.  If you do not venture out of your boundaries, you do not see how differently other business are innovating.  The need for change and the sacrifices you may need to make are not as clear.  Knowing that you may have to retool, replace, and potentially eliminate systems, services, and personnel is difficult to contemplate or accept.  But, with the hiring of outside employees, incorporating consultants, and the contracting of strategic service partners, we can quickly start to open up our eyes to an ecosystem different than ours.
Shedding light on the efficiencies and problems within a data center can quickly change the viewpoint and strategy for many IT departments.  This often is not an easy step to take and the skills and tools to make these epiphanies lie beyond that of the IT Department.  This is the realm of the strategic partner and trusted advisor: our Jedi Master Yoda's.
"Train yourself to let go of everything you fear to lose." – Master Yoda
A strategic partner and trusted advisor is not afraid to tell you the news you do not want to hear.  These Jedi of the data center can often point out the obvious limits that we seem blind to recognize.  However, with trust comes the need to accept truths about our decisions and future we have been blind to see.  A strategic partner and trusted advisor provides insights into realms we ourselves dare not explore.  
"Difficult to see. Always in motion is the future…" – Master Yoda
Our data centers and IT departments are our terrariums.  Self-contained ecosystems where we grow from the lessons we learn in our own environments.  Partners provide new focus, new insights, and different paths to problems we thought we had solved.  Replacing servers, upgrading storage, and expanding networks all seem like the right choices, but when each one becomes our bottleneck or pain points, we look to adding more complexity in attempt to solve a simple problem.  A strategic partner, however, can share the insights of replacing parts or the entirety of our environments and provide the feature/function/cost analysis that we may not yet have the skill or knowledge to grasp.  
"You must unlearn what you have learned."  – Master Yoda
We have been working with our strategic partners to help our customers understand there are different paths to success.  On-Premises IT vs. Cloud Computing analysis often is beyond the experience of most IT departments.  A strategic partner who has looked at utilization, dependencies, ingress/egress of network traffic, and disaster recovery can often find significantly more efficient models for us to contemplate and adopt.  The problems we have encountered may not have appeared had we made different choices, and the skills we have developed may not have prepared us for the Cloud.  
"In a dark place we find ourselves, and a little more knowledge lights our way." – Master Yoda
We have been working with our strategic partners, the Jedi of IT Services, to help shed that light on their customers in a way that can change the mindset and business model for IT and allow us to see a future different from the path we set out upon.  Deploying solutions like Google Cloud Platform (GCP) in the place of traditional on-premises IT can make significant changes to a business bottomline and ability to survive a disaster scenario. When a small IT shop has an annual IT budget of $500,000 per year for operational services, systems, and support, any steps you can take to reduce this can be reapplied to innovation and growth.  But, our partners provide us with the vision to see a new path and a new future that we never envisioned.
"Looking? Found someone you have, eh?" – Master Yoda
CloudPhysics is proud to help strategic partners provide the financial calculations to motivate change in IT culture and on-premises IT models.  No longer do we need to think of our IT department as a self-contained terrarium, but rather an extension of a global ecosphere with our own microclimate that suits our specific needs.  CloudPhysics offers complex on-premises IT cost analysis and allows partners to bring forward true cost figures for production data centers to customers. Visibility into real workloads and real performance data coupled with the depth and experience of a strategic partner ensure customers do not need to end their careers in the same limited fishbowl where they started their journey.
"Secret, shall I tell you? Grand Master of Jedi Order am I. Won this job in a raffle I did, think you? How did you know, how did you know, Master Yoda? Master Yoda knows these things. His job it is." – Master Yoda
Take the step and speak with a strategic partners and trusted advisor.  Learn to recognise the new path and be unafraid to follow the wisdom they share.